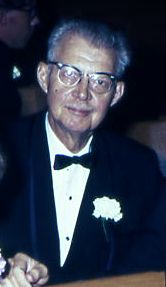 Memories of Grandpa
Memories of Grandpa
Grandpa was born October 28th 1906 in Minneapolis. He was a professional cartoonist by trade and a fantastic, fun and kind grandpa by nature. I called him "little grandpa" because he had a bad hip and needed to sit most of the time. As a child he looked little to me. Grandpa would always spend time with me and my brothers playing with us. Often he would draw a funny picture while telling some comical story that would make us laugh.
I spent many days with grandpa tinkering in his workshop and doing odd jobs at the apartment buildings. Grandpa always had a great sense of humor and enjoyed comedies. I remember going with him to see "Start the Revolution Without Me" one night. He and I laughed so hard we almost fell off our theater seats. Even though I didn't quite understand what was so funny his laugh would make me laugh as well.
Little grandpa died unexpectedly on December 17th 1971 at the age of 65. My dad and I visited him on Tuesday December 14th at Glenwood Hills Hospital in Minneapolis were he was being tested for something. When I came home from school on the bus that Friday I remember being very glad that Christmas break was starting. But when I entered our home in Isanti I was met at the door by my mom. She told me that little grandpa had died that morning. I dropped my lunch box on the floor of the kitchen and ran to the barn crying inconsolably.
That night my dad came home with my grandma and my uncle. I remember just sitting in the living room with them with the space heater running. Everyone was in shock. When it came to go to bed my dad would always pray with us kids. That night was no exception. At the end of our prayer we would always say, "and God bless mommy and daddy and Billy and Daniel and Patrick and Anne and Margaret and everyone amen". That night my dad added the words "and please take little grandpa's soul to heaven". After he said those words dad laid his head on the bed and wept. That was the first time I ever saw my dad cry.
Everything has changed since then. That entire generation and era is gone. I am now a grandpa. But even though it has been 34 years, time hasn't erased the joy of knowing my grandpa Melvin Soderlund or the pain of his passing. I just wish I could spend a little more time with him today. But for now I will hold him in my heart until we meet again.